Ended Tasks List
---
By selecting the option to manage Scheduled Tasks, will appear the form "list of Scheduled Tasks" that allows to review the Pending Tasks.
To filter the Task or list of Tasks you want to review, just enter part of the name of the category and a range of timestamp (autofilled with the last minutes) in the text box and press "ok". The list of Tasks that meet the conditions will be shown on the results table. The results table shows the data:
Unique identifier of the task ("Work Order")
Name of the Task
Description of the Task
Category of the Task
Kind of Taks
Object type (one of Folder or Document types) that apply the task
Object filter(always *)
Parameters of the task. Depend on task type.
Date and time of next execution
Flag indicating whether the task is active
Flag indicating whether the task is transactional
Name of last user who modified the Task definition
Date and time of last modification
Flag indicating whether the task is sucessful or not
Message error if the task was unsucessful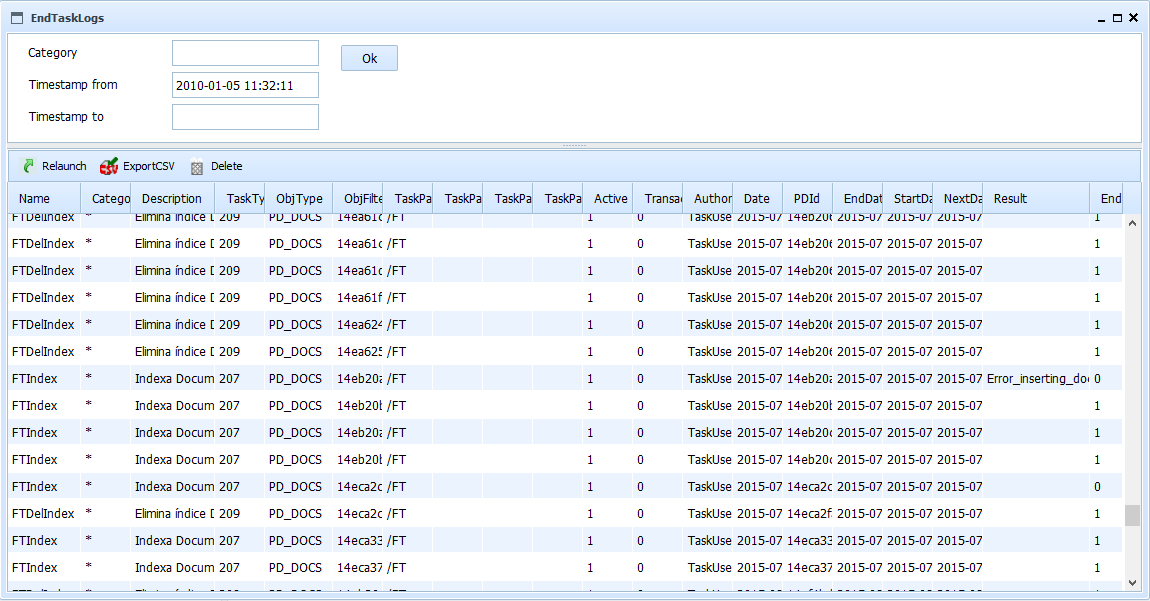 This results table can be sorted by selecting the header of each column. You can also change the size of each column by dragging the separator line in the headers.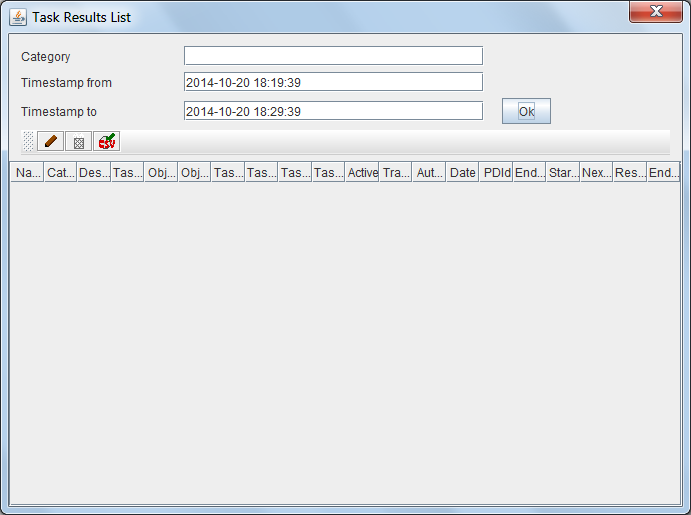 Above the table of results there are several buttons for performing operations on the selected item. The available operations are:
Relaunch the selected element
Delete ALL the selected element
Export all items listed in CSV format so it can be imported in Databases or Spreadsheet
In the event of an error (lack of user permissions, data inconsistency, etc.), the operation is canceled and will present the reason for the error to the user.
View Scheduled Tasks List, Pending Tasks List y Event Tasks List
---
Help Index OpenProdoc